The Bald Truth: Why Cloud?
Everybody keeps talking about this "cloud" thing. Cloud this. Cloud that. Clouds all over the place. Your music's in the cloud. IBM's on the cloud. Amazon and Google are the cloud. Your bank's got a cloud. Your work email, that's in the clouds. Heard about Microsoft Word in a cloud? Sure you have. And pretty soon our cars will be on a cloud and then we'll all be cruising the skies like we're right out of a Star Wars movie jumping into our own starship.
But are you still wondering just why everyone is moving to the cloud? Since we're talking about the information the super-sky-way, let's jet right to it: you've got questions but you don't have a lot of time. Good news! We've got answers and we've got them fast. In the "The Bald Truth" 90-second video below you'll learn the 3 big reasons behind why so many businesses are moving to the cloud.
Things still looking a little foggy? We've got some data that will clear things right up. View this infographic to learn more about the cloud.
Finally, even clouds need care and nourishment now and then. Just like all technologies, they can face their own challenges. You want to arm yourself with a platform that allows for complete mobility, continuity, and resilience for and between your clouds. Well, have we got a story for you. Learn the importance of establishing a cloud continuity platform and using multiple clouds for IT Resilience here: https://www.zerto.com/cloud-computing/it-resilience-for-the-cloud/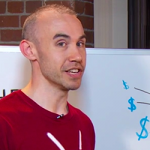 Sean Masters
Lover of amazing wife, startup strategy, and simplifying all things. Futurist. Polymath. Best pal to a small dog. Head of Global Sales Enablement at Zerto.